Bohemian style, known for its free-spirited charm and artistic flair, has captured the hearts of interior design enthusiasts around the world. A significant aspect of this eclectic aesthetic is the use of wood log furniture, which brings a touch of rustic elegance and a strong connection to nature. In this article, we explore a plethora of design ideas that integrate Bohemian style wood log furniture into various spaces, infusing warmth, character, and a sense of adventure into your home.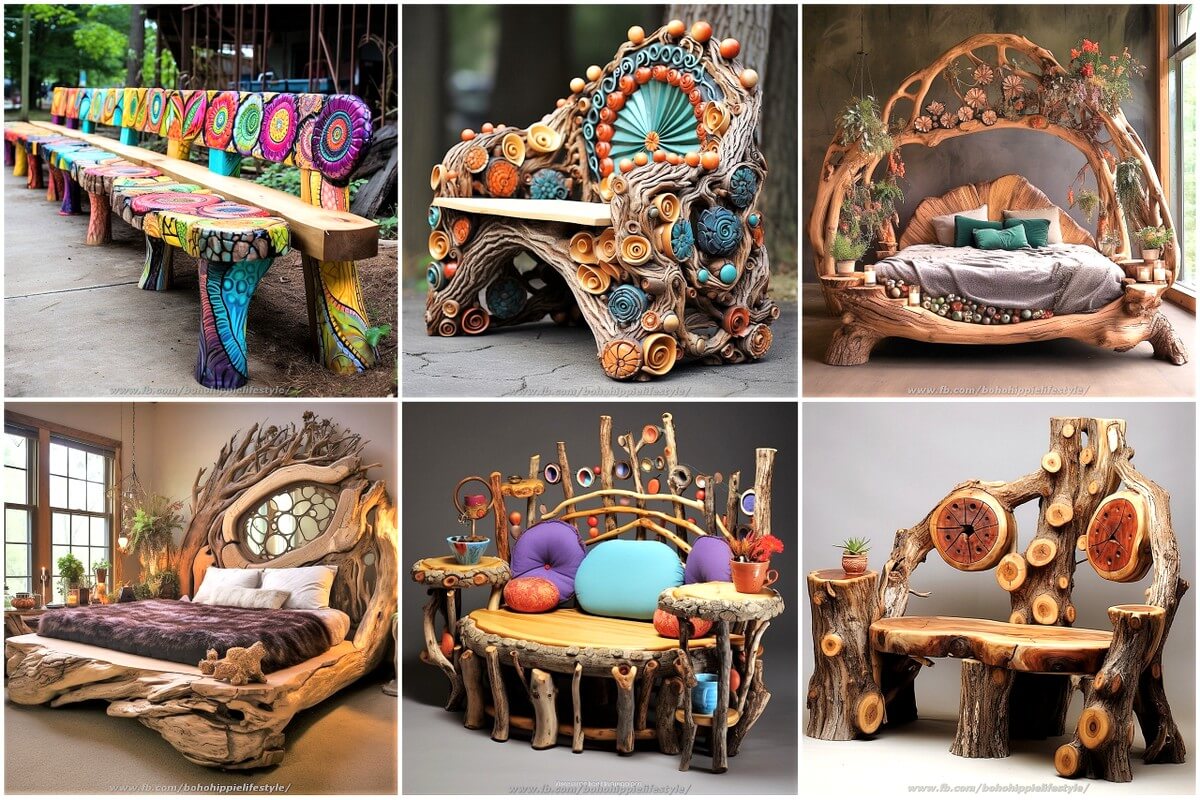 One of the defining characteristics of wood log furniture in the Bohemian style is its unrefined beauty. Each piece tells a unique story through its irregular shapes, natural textures, and the intricate details of its wood grain. It's a celebration of imperfection that mirrors the natural world. Bohemian style is deeply rooted in a reverence for nature. Wood log furniture captures this essence by bringing a piece of the outdoors inside, connecting the living space to the organic world and inviting a sense of tranquility and serenity. Every piece of wood log furniture is a testament to artisanal craftsmanship. Skilled craftsmen meticulously shape and carve logs into functional works of art, infusing each piece with a unique character that cannot be replicated by mass production.
Boho-Chic Living Room Retreat
Create a Bohemian oasis in your living room with wood log furniture that effortlessly merges rusticity with comfort. A large, wooden coffee table crafted from logs becomes the heart of the room, providing a platform for artistic displays, coffee table books, and a collection of candles. Enhance the ambiance with floor cushions and poufs upholstered in vibrant textiles, creating an inviting space for relaxation and conversation. Incorporate wood log side tables to further emphasize the Boho-chic charm, and drape soft throws and rugs for a tactile experience that complements the natural textures of the furniture.
Enchanting Bedroom Escape
Transform your bedroom into a dreamy sanctuary with the addition of Bohemian wood log furniture. An enchanting wood log bed frame becomes the focal point, adorned with flowing curtains and fairy lights to evoke a sense of whimsy. Layered textiles, including embroidered pillows and vibrant quilts, add depth and warmth. Consider incorporating a wood log bench at the foot of the bed, doubling as both storage and a stylish seating option. A woven rug beneath the bed completes the look, creating a cozy and inviting atmosphere that invites relaxation.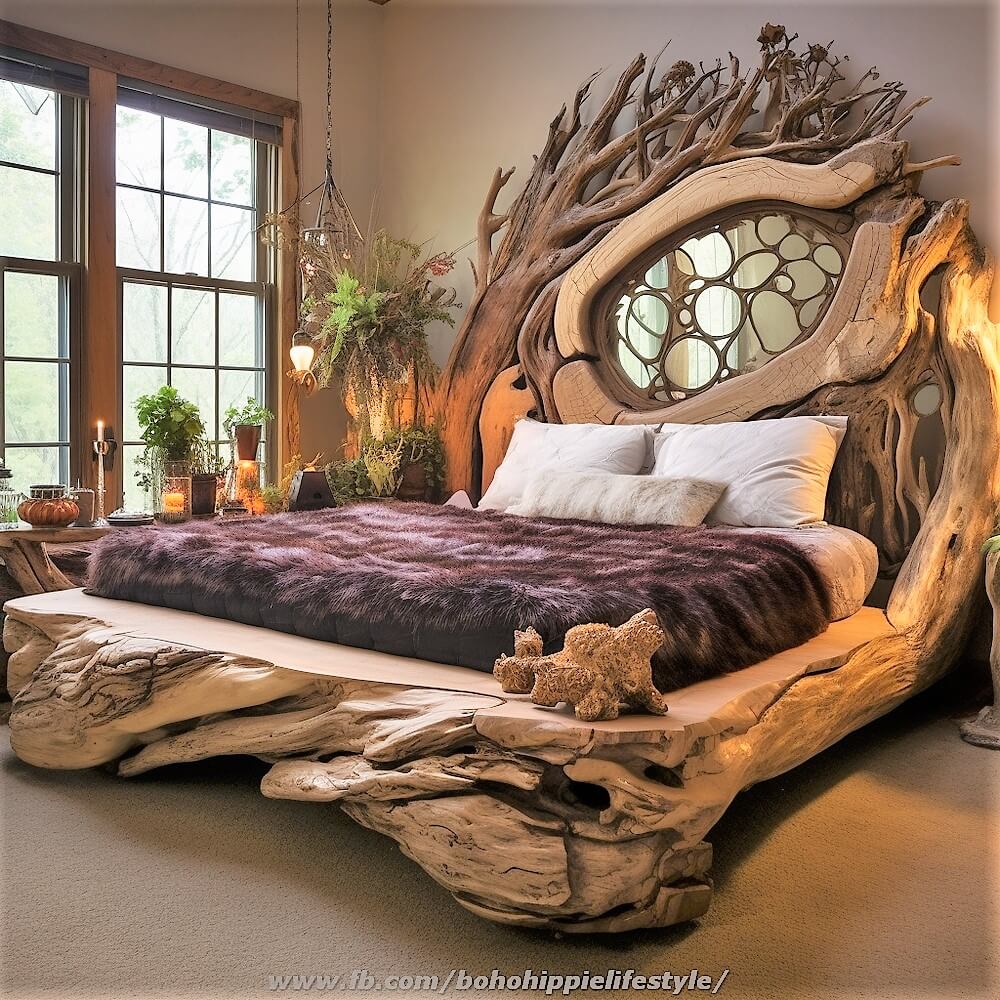 Eclectic Dining Delight
Elevate your dining area with Bohemian wood log furniture that encourages free-spirited gatherings and heartfelt conversations. A wood log dining table becomes the centerpiece, surrounded by mismatched chairs in a variety of textures and colors. Embrace the eclectic vibe by mixing and matching dinnerware, glassware, and vibrant linens. Overhead, a statement chandelier crafted from natural materials complements the rustic charm of the wood log furniture. Finish the look with a gallery wall featuring bohemian-inspired artwork and woven tapestries.
Artistic Workspace
Infuse creativity into your workspace by incorporating Bohemian style wood log furniture. A wood log desk becomes a canvas for inspiration, adorned with potted plants, quirky decor, and a mix of eclectic storage solutions. Create a cozy reading nook by placing a wood log armchair near a window, inviting moments of contemplation and relaxation. Open shelving crafted from logs adds functional storage while displaying an array of books, art supplies, and decorative items that resonate with your personal style.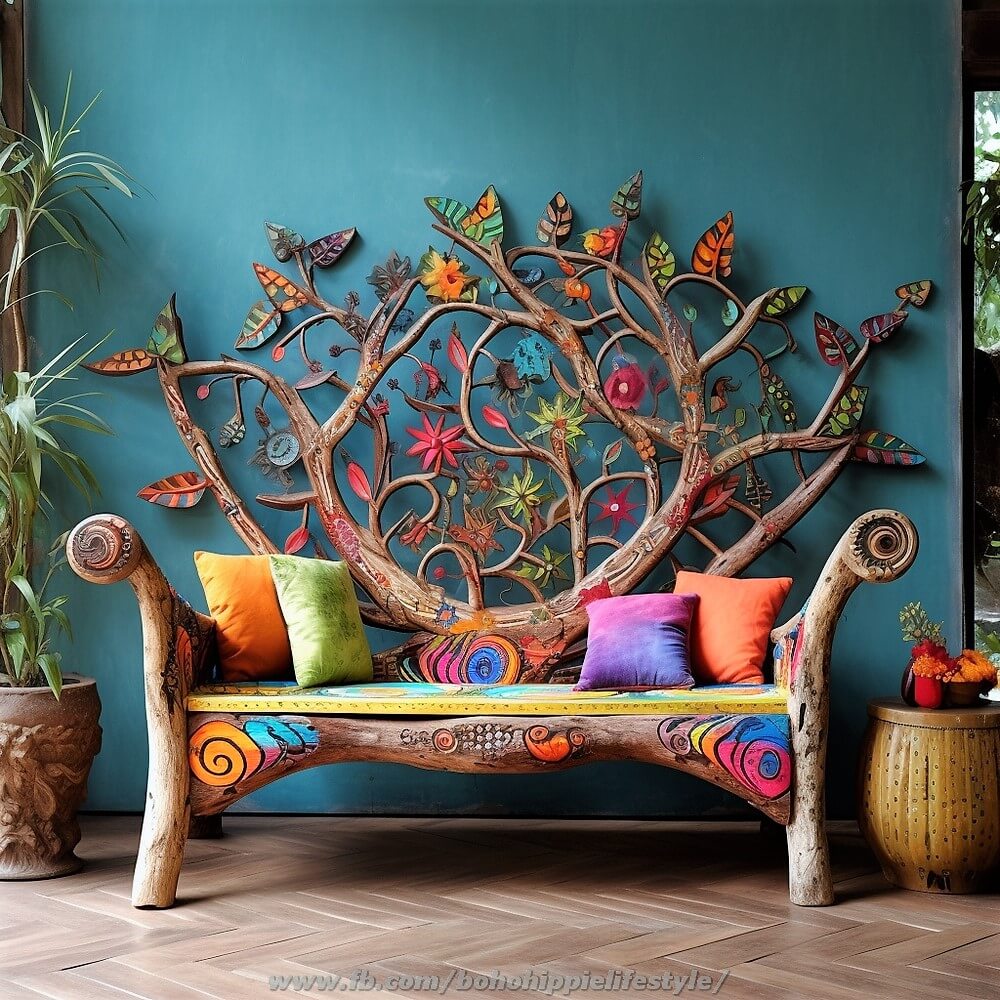 Bohemian Reading Corner
Create a cozy reading nook that pays homage to Bohemian aesthetics by incorporating wood log furniture. A well-crafted wood log rocking chair becomes a haven for literary escapes, accompanied by a side table for your favorite books and a cup of tea. Surround the area with floor cushions, throw blankets, and plush textiles in earthy tones to evoke a sense of comfort and relaxation. Decorate the space with potted plants, dreamcatchers, and string lights for a whimsical atmosphere that invites hours of contemplation.
Outdoor Boho Paradise
Extend the Bohemian spirit to your outdoor spaces with wood log furniture that seamlessly blends with the natural surroundings. A wood log dining table and benches become a charming spot for alfresco meals and gatherings. Enhance the outdoor experience with vibrant cushions and patterned textiles that evoke a carefree vibe. Integrate wood log chairs around a fire pit to create a cozy lounge area, perfect for stargazing nights. Hanging macramé planters and dreamcatchers contribute to the Bohemian ambiance, transforming your backyard into a whimsical paradise.
Bohemian style wood log furniture introduces a captivating blend of nature's beauty, artistic expression, and individuality into your home. From living rooms to bedrooms, outdoor spaces to workspaces, and dining areas to cozy corners, the possibilities for integrating these rustic pieces are endless. As you explore these design ideas, remember that Bohemian style encourages you to embrace your creativity, celebrate imperfections, and forge a strong connection to the natural world. By incorporating wood log furniture, you not only elevate your living spaces but also infuse them with the enchanting spirit of Bohemian elegance.