Jewelry is an accessory that men and women both used for the adornment of their looks. In simple words, jewelry increases the charm of every style you adopted in your prettification. But just think, if the jewelry speaks on its own. Gem Hunt has ones said, that every piece of a jewelry tells a story. So there is no comparison of boho style jewelry designs with any other jewelry pieces. Bohemian style jewelry is quite different from the others as it's just not only raise the beauty of your look but will attractively change the tedious impression of your surroundings into best one. Explore these boho-chic style ideas one by one.


Bohemian style is all about the mixing of accessories. It just a fashion trend of peaceful mind. It's a fashion of individualism. Wear whatever you like. If you want to achieve a perfect boho style look you need to go with the loose and flowy pair of earrings as shown in the image below.
It's a superb boho style idea to add to your jewelry box right now. A different yet elegant type of vibe is felt at the first sight of these earing. The fabulous use of pistachio cover makes the pair of earing looks heart-touching. You can also select this jewelry when planning to move to a beach party.

It is a well-known fact that whenever it comes to the bohemian style jewelry, feathers appears as an essential element. It does not matters that you are selecting them in the necklace, earrings or bracelets, they are always ready to show the individual appearance and free-spirit of boho style.

The wonderful thing about bohemian style is that we do not need to match anything. So it seems good to have few over accessorized rings look. In simple words, layering of rings or a single oversized ring will also reveal your love with the boho style.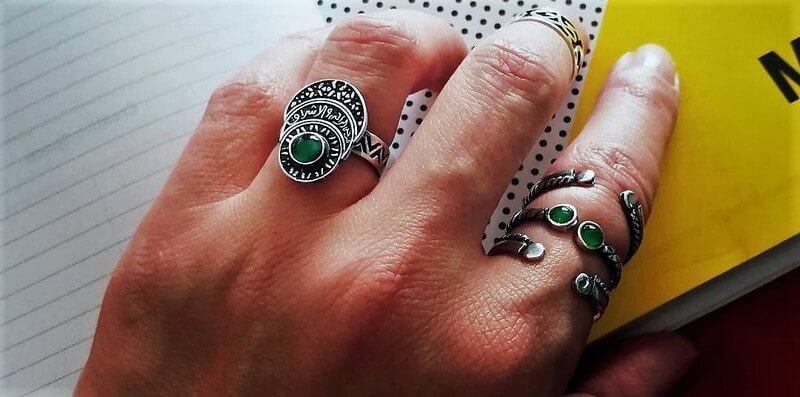 Earrings with some elegant tussles are such a brilliant and main part of the boho style jewelry. Tassels are the main element of bohemian fashion, no matters it is hanged over jackets or bags. But when it comes to earings, it's become a great source for boho style in your dress up.

For a romantic look in your look, you can easily go with a delicate layering of bracelets. Wonderful bright colors with tussles seem inspirational. You can wear them with your jeans and tops. The idea is much attractive to adopt with long maxis to have a great boho style look.

As you know, that bohemian style is not just restricted to one item only. It's a name of culture, a sign of tradition and the color of life. Wearing crocheted necklace looks another heart-touching idea to reveal your hidden love with the bohemian fashion.

Fantastic use of purple shade stone is made possible in the designing of these delightful boho-inspired earings. The long pattern of the earrings makes them best to wear with modern style shorts or with traditional looking flowy maxis as well.

If you make a little use of your time and make little research about the trending jewelry items, you will for sure find it trending everywhere. The wonderful bracelet idea is comprised of three layering, one of stones, second of elastic and third one of chain. It's a perfect bohemian style jewelry idea.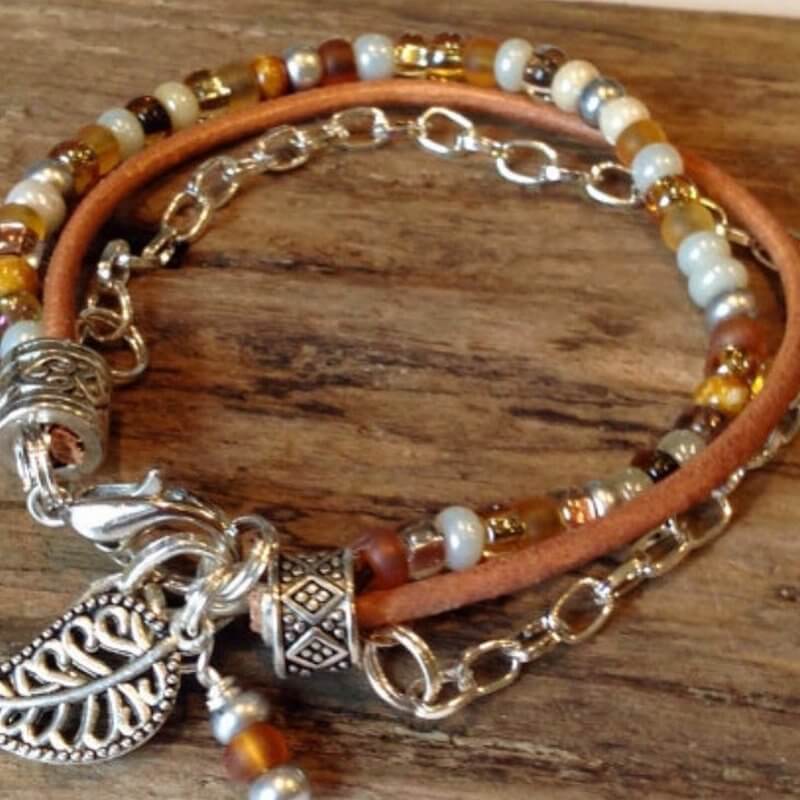 If you really desire to have the attention of other peoples on your outfit then you must have such kind of bohemian style necklace in your jewelry box. It will amazingly catch the attention of the people that surrounds you and will appear as the perfect style statement.

An elegant piece of stone ring totally inspired by the bohemian style is shown in the image below. The idea is simply breath-taking. It will apparently suit with your any type of outfit. And create a perfect bohemian vibe in your look.

Beads made jewelry set appears as a perfect plan that you can't just add to your jewelry by buying it from the market but you can also design it on your own. This fascinating bohemian style jewelry set is exceptional to wear with any casual outfit.

Now you can easily adopt the bohemian style in your look by wearing a single piece of bracelet shown below. The appealing colors of the beads and the ornamentation made by shell, coins and animal style logos appears best to make a part of jewelry box right now.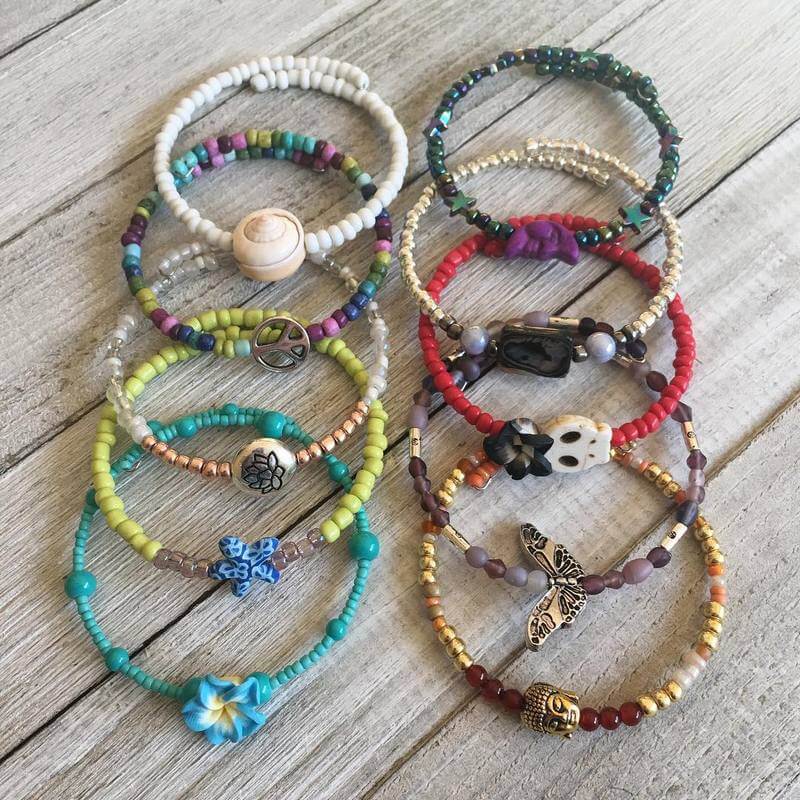 A stylish boho-chic jewelry item is the part of the image given below. This is simply the most admirable pendant with stone and silver touch in it. This eye-catching bohemian style jewelry is best to wear with your fancy dresses as well as with casual ones.
An adorable beads pendant is all here to adorn your look. It will greatly enhance the charm of your jeans and tops. The wonderful layering with leather and beads all are beautifully making this jewelry item a part of bohemian fashion.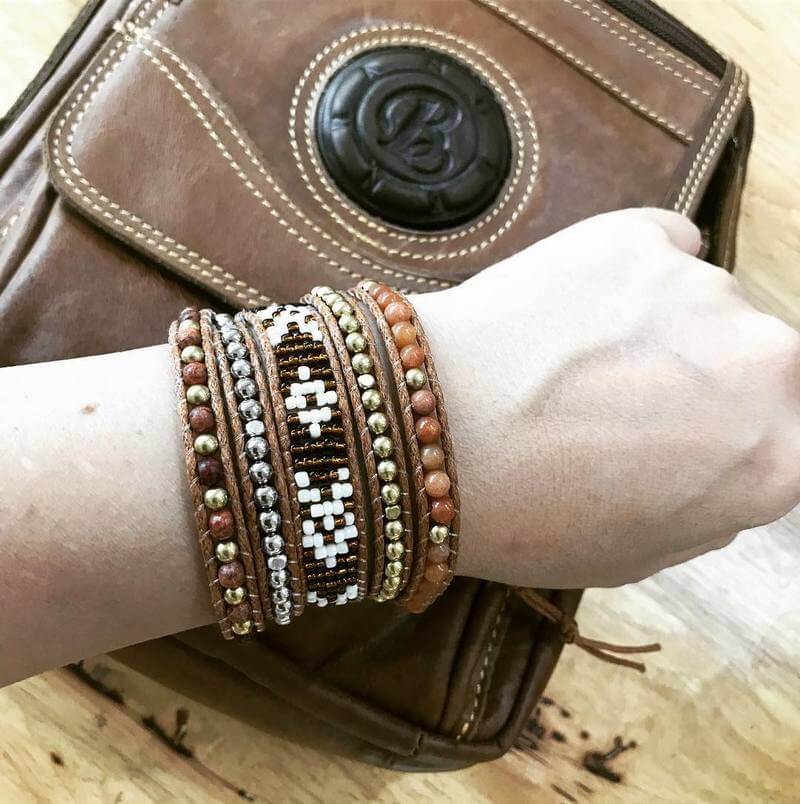 Another exceptional pair of earnings is all here that are quite trending in the latest jewelry fashion. The color combination, styling and even the fantastic use of feathers all are making this project a great element of boho style.

Here we have the DIY pair of earrings that you can easily make at home. These bohemian style earrings will for sure appear as an elegant summer accessory. In spite of their intricate design, the preparation method is quite simple and you can also change them in color and styling,

If you are looking to buy some new jewelry items so that you can attend a wedding event, then this beautiful jewelry set is the perfect one for you. It is the best jewelry set as it centers the pure bohemian style theme in it.

Boho style jewelry is all about mixing and matching of colors and material to create an outstanding piece. Confident women will love to wear such type of jewelry set shown in the image below. The idea is sublime-enough to wear with Asian style suits and clothes.

A delightful boho style design for the jewelry is all here for the college going girls. A pendant with the written first letter of the name always looks desirable to girls. This exceptional and eye-catching charm of this jewelry pendant looks stunning.

Another delightful idea of bohemian style jewelry is here which you can easily use as a pendant as well as an attractive pair of earrings. A flowy pattern is just formed with the hangings of silver leaves. The brilliant combination of material is simply appealing.

Look at the fascinating boho style jewelry pendant shown in the image below. The fabulous use of Jasper and different beads is effortlessly glamorous. This beautiful pendant will amazingly make your day and will appear a style statement for you.

Just have a look at the perfect boho style jewelry item shown in the image below. You can use this attractive idea to adorn your simple and boring look into the prettiest one. This bohemian style fashion is particularly used in India at the time of weddings.

It's time to amaze everyone with your beautiful taste in jewelry as well as in your dressing. The fantastic bracelt seems mind-blowing and looks sublime enough to increase the grace of your simple dress up. You can also design this bracelet at home.

These are another alluring and lovely bohemian style pendants that are beautifully showing the free spirit and individual confidence with it. The cute moon shape pendants with a delicate stonework look perfect to present as a gift for birthday parties and wedding events
Here we have a multifunctional jewelry accessory for you. These wonderful steels bracelets are made with the fantastic use of steel and laces in it. This boho style jewelry item will simply increase your beauty as well as memory, as you can write some useful dates on it,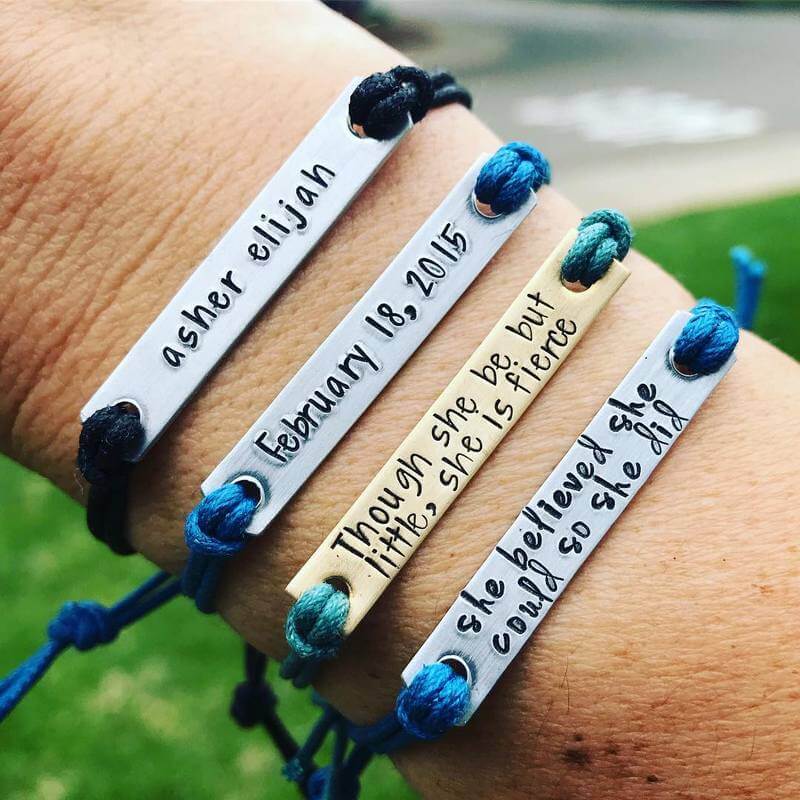 Now check out the stunning idea for the creation of this bohemian style bracelet. The idea is all created with the mixing of various materials such as various color beads and an animal inspired sign shown in the image below.

Just stop wasting your huge sum of money on buying simple and ordinary jewelry items available in the markets, and choose the wonderful boho-chic style jewelry idea shown below. It will not only deliver your look an eye-catching appearance but also makes your confident.

Let's make a unique enhancement in your beautiful jewelry box by making this appealing boho style pendant a part of it. The idea is beautifully presented to wear with any type of dress. As you have the freedom to wear it with your skirts and jeans.

There are many girls who desire to enhance their beauty with the use of different jewelry items. Especially wearing various style rings in their hands. The alluring use of bohemian style jewelry such as these oversized rings seems breath-taking.

A delightful combination of beads, stones, and gold is used for the appealing designing of this bracelet. This heart-touching boho style bracelet is beautiful enough that you can use it as a gift for your younger sisters and even college friends.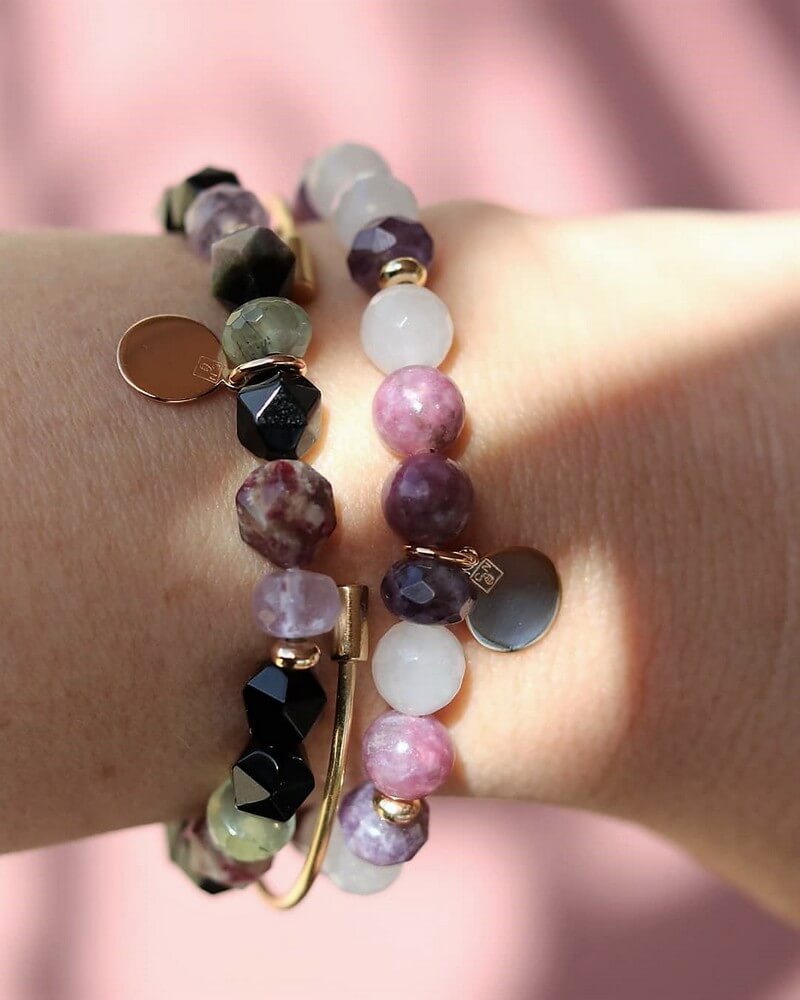 Look at the funky styling of the hand is just made with these oversized mixing and matching of different rings. Bohemian fashion just possible to adopt, if you have a free-spirit in you. The layering of rings is beautifully disclosing the boho style in it.

Look at the extraordinary appearance of these long earrings. The idea is adopted through inspired by the boho style. The long yet different designing of this jewelry item makes it best for young girls. Ones you have such type of jewelry with you will love to wear it. Color cobination is another great reason behind the beauty of these boho-chic earungs.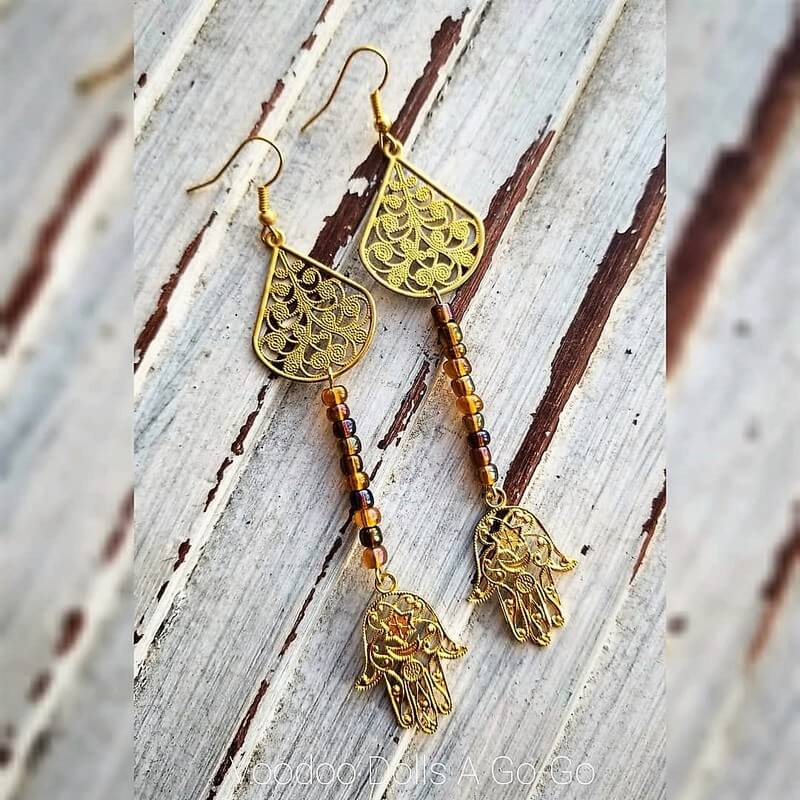 Not just limited to casual or formal fashions, bohemian style rings have become popular all around the world that they can also be used as an engagement or wedding rings as well. These stunning rings will enhance the grace of your look and a great way to show your love to someone really special.

Kate Reardon has said this once, that the most desirable thing in her wardrobe is her jewelry. The inspirational black beauty of the bohemian style bracelet is quite difficult to describe with words. Animal-inspired hanging is just enhancing the charm of the jewelry item. Your confidence level will definitely increase by making such exceptional piece a part of your jewelry.

Women love to wear jewelry and if an alluring piece of bohemian style jewelry is presented as a gift, she will really love that present. This pleasing piece of jewelry will attractively adorn your everyday look. Check out the idea shown below that will makeyou fall in love with it's attractive look.

To add the glorious bohemian vibe to your dressing, you can also opt. the awesome idea of these types of earings. The fantastic beauty of the earing comes to us with the silver tussles, and of course, with the unique flower-like look of the top of the earing. An awe-inspiring mixing of pattern are making these earnings simply best one.

Check out the appealing view of this bohemian style bracelet. The delightful matching and mixing of various colors are perfectly making it a boho-inspired jewelry item. The stylish and elegant appearance of this bracelet will appear as a great addition to your look.